"People just throw, in a few seconds time, their unbearable lives away."
This has taken a while (by my standards, anyway), owing to the complexity of some of the artists' back catalogues (I think it"ll take me a long while to get my head around Robert Ashley's body of work in particular) but also because I was diverted by a sudden urge to write about Pere Ubu.
A quick request before we embark on this set of NWWL artists: The Fall blogs had a very distinct audience which was (relatively) straightforward to build. This, obviously, is a little more challenging to promote. So, if you know of any individuals, Facebook groups, etc. that might have an interest in the weird and wonderful world of the NWW List, then I'd be really appreciative if you could share links to this blog. It would be much appreciated. Right, onwards!
Area
After several visits to Germany, France and Sweden, we find ourselves in Italy for the first of this batch. Area formed in Milan in 1972, the original line-up being Demetrio Stratos (vocals / organ), Patrizio Fariselli (keyboards), Paolo Tofani (guitar), Belgian Victor Busnello (sax), Frenchman Yan Patrick Djivas (bass) and Guilio Capiozzo (drums).
The group were notable for their strong socialist stance; also, like Albrecht/d, they were influenced by Fluxus. Another key feature was Stratos' vocals. An Egyptian-born Greek, several online sources suggest that he could reach 7000 Hz (I have to confess that I don't really know what this means specifically, but it sounds impressive) and was able to perform diplophony (being able to produce two sounds of a different pitch) and even triplophony and quadrophony. Stratos, like Fariselli and Tofani, received his own separate entry in the NWW List.
Debut album Arbeit Macht Frei was released on Cramps Records (the label's first release) in 1973. The title is German for 'work sets you free': the phrase was coined by German writer Lorenz Diefenbach as the title of a 1873 novel, but is most renowned for appearing at the entrance of Auschwitz and other Nazi concentration camps.
The album is a hard-edged, exuberant take on jazz-rock and the Canterbury sound. A mixture of tight, intricate passages (often led by the intertwining of Fariselli's keyboards with Busnello's sax) and looser, more avant-garde moments, it's impressively concise (36 minutes) and focused; playful and experimental without ever being self-indulgent. The title track gives a good impression of the album's range of dynamic approaches: opening with a brief drum solo, it morphs into lightly jazzy passage accompanied by woozy sci-fi effects before breaking out into a taut, energetic guitar/keys/sax motif that momentarily dips into free-jazz chaos before settling into a heavy blues-rock riff. Towards the end, there's even a spot of fierce, angular King Crimson thrown in.
Stratos' vocals, although perhaps a bit of an acquired taste, are one of the album's defining features. His unique voice is expressive and dramatic throughout, deployed in an almost bewildering array of styles, for example on 'Le Labbra del Tempo' ('The Lips of Time'), the closing couple of minutes which seems him take in muscial theatre, opera and hard rock bellowing. Closing track 'L'Abbattimento dello Zeppelin' ('The Killing of the Zeppelin') is the most avant-garde piece here, an oppressive fusion of brittle free-jazz improvisation, funk-prog, blistering psych-rock and more remarkable operatic gymnastics from Stratos. (Tofani's echoing of 'Whole Lotta Love' in his solo was apparently inspired by a gig where the band were asked to play a cover of the Led Zep tune, but played this instead which resulted in them being asked to leave.)
By the time Area recorded their follow-up album, Caution Radiation Area (1974), Djivas (who joined PFM, and was replaced by Ares Tavolazzi) and Busnello had departed. Again very concise (only just over half an hour) it's a heavier, more direct and aggressive album than its predecessor, and gives freer rein to the group's avant-garde tendencies. 'Brujo', for example, sees them still deploy frenetic bursts of complex Crimson-esque riffs, but these are intercut with eerie, downtempo passages and splashes of hectic free jazz. Stratos' voice is used as another instrument rather than a vehicle for expressing lyrical meaning, through a cocktail of demonic groans, wails, whispers and croons.
The lengthy 'MIRage? Mirage!' is similarly deranged and inventive. Closing track 'Lobotomia' provides four minutes of shrill, unrelenting distorted synth.
Crac! (1975) was the group's longest album yet, although at 38 minutes it was still no Topographic Oceans. Overall, it was more accessible than the first two LP, or at least as accessible anything with Stratos on vocals could be. 'Gioia e Rivoluzione' even sees the group venture into something resemble a pop song: after Stratos' ululating introduction, it settles into a jaunty jangle-guitar groove supported by barroom piano, a gentle synth melody and polite hand claps; Stratos even delivers something like a conventional vocal most of the time. 'Megalopoli' and 'Implosion' touch on a mid/late 70s Genesis sound.
Although the album takes a relatively straightforward approach to progressive jazz-rock fusion (with an added dose of funk thanks to Tavolazzi's fluid bass), it's not devoid of experimentation. Closing track 'Area 5' is sparse, skittering bit of free jazz, Stratos contributing a form of wordless scat-yodelling. The first half of 'La Mela di Odessa (1920)' is another slice of polished prog-fusion, but it then takes a sideways turn into a funky, stuttering synth riff punctuated by atonal blasts from what sounds like a drunken and/or deranged marching band, all accompanied by Stratos' cackles shrieks and what sounds unnervingly like a Jimmy Saville impersonation.
Several online reviews suggest Crac! as an entry point for investigating the band, and this is a fairly sensible suggestion. However, for me it lacks some of the wildly uninhibited invention that makes the first two LPs so rewarding.
Are(A)zione, also released in 1975, featured live recordings of the group's Italian tour of that year. A pretty good quality recording, its most notable for the 15-minute semi-improvisational title track and a quirkily jazzy take on the socialist anthem 'L'Internazionale'.
Maledetti (Maudits) (1976) featured guest appearances from saxophonist Steve Lacy (a frequent collaborator with Thelonius Monk, Lacy is another who has his own separate entry on the List) and English free jazz percussionist Paul Lytton. A concept album of a political / dystopian sci-fi nature (there's a detailed account of the various themes in the review by 'andrea' halfway down this page), it leans more heavily towards free jazz and avant-garde than prog. 'Caos (Parte Seconda)' is a challengingly abrasive and meandering nine-minute experimental piece; 'Scum' features Stratos reading the words of Valerie Solanis (the radical feminist who attempted to murder Andy Warhol) over a bleak, synthesised background. Whilst it has its moments, Maldetti is rather uneven and sounds at times like a group unsure of its direction.
Paolo Tofani left the group after Maledetti and was not replaced, so although Tavolazzi contributed some acoustic, 1978's 1978 Gli Dei Se Ne Vanno, Gli Arrabbiati Restano! ('The gods depart, the angry remain!') was largely guitar-free. This gives the LP a lighter, less intense sound, and it's much more jazz-fusion in tone. The tracks are much shorter here (only closer 'Vodka Cola' breaks the seven-minute mark) and there's a somewhat fragmentary tone, some of the songs feeling like underdeveloped ideas. Tavolazzi is a great bass player, but the absence of guitar leads him to overcompensate. Some tracks are distinctly poppy and lightweight: 'Hommage à Violette Nozières', if it weren't for Stratos' characteristic warbling, could have been an Italian Eurovision entry; 'Ici On Dance!' is an uncomfortably ham-fisted piece of jazz-funk-pop.
Stratos left Area in 1979. Shortly afterwards, he was diagnosed with aplastic anemia. A charity concert was organised to raise funds for his medical treatment, but he died the day before it took place.
Shortly after Stratos' death, Cramps released the live album Event '76. Featuring a slimmed-down line-up of Stratos, Fariselli and Tofani (Tavolazzi and Capiozzo had temporarily left the band at this point) accompanied by Lacy and Lytton, it's a bleak and rather aimless improvised performance.
Fariselli, Tavolazzi and Capiozzo returned to the studio in 1980 – accompanied by saxophonist Larry Nocella – to record Tic & Tac. Forty minutes of smooth, polished jazz-rock fusion, it's a million miles away from the challenging innovation of the group's early work.
Area disbanded in 1983. Giulio Capiozzo recorded a couple of albums with session musicians under the name 'Area II' in the late 80s (it sounds pretty awful). A few of the original members reunited in the 90s to perform live and record Area's final album Chernobyl 7991 (1997).  It's marginally better than Tic & Tac – 'Deriva (Sogni Sognanti Vendesi)', for example, has a bit of an angular spark about it – but it's still a pale shadow of what went before.
A final reunion line-up was put together in 2010 – Fariselli, Tavolazzi and Tofani being joined by rummer Walter Paoli – who were still performing in 2019. A double CD was released in 2012.
Art Bears
Formed in the wake of the disintegration of Henry Cow (who also feature on the List), Art Bears comprised Chris Cutler, Dagmar Krause and Fred Frith (who also has a solo entry on the List – all this cross-referencing is going to keep me on my toes). During 1978, divisions had arisen amongst the members of Henry Cow regarding the group's direction: Cutler and Frith wished to record some shorter songs; the others wanted to focus on lengthier, instrumental material. As a result, Cutler and Frith's songs (with Krause on vocals) were released as Hopes And Fears. Intended as a short-term project, Art Bears went on to record two further albums over the following three years.
Hopes And Fears (1978) was released under the name Art Bears, but included contributions from other Henry Cow members such as Lindsay Cooper and Tim Hodgkinson.
The album opens with 'On Suicide', which is every bit as emotive as the title suggests. Krause's vocal style – influenced by Lotte Lenya (who was married (twice) to Kurt Weill) – is an acquired taste, and I have to confess that I sometimes struggle with it. Here, however, her delivery, supported by delicate strings and woodwind, is perfect for the plaintive, melancholy lyrics:
'In such a country and at such a time,
There should be no melancholy evenings,
Even high bridges over the rivers,
And the hours between the night and morning,
And the long winter time as well:
All these are dangerous.
For in view of all the misery,
People just throw, in a few seconds time,
Their unbearable lives away.'
'The Dividing Line' continues the oppressively melancholy tone, Krause's somewhat overwrought delivery being carefully balanced with the desolate, understated musical accompaniment. 'Joan' takes Joan of Arc as its subject ('Was I a witch? / In the dark days I heard voices') and has a touch of King Crimson about it, especially in Frith's Fripp-esque guitar work.
Elsewhere, the album takes in gently proggy folk ('Terrain'), semi-operatic balladry ('The Pirate Song') and dark folk ambience ('Piers'). For me, the highlight is the album's longest piece, 'In Two Minds'. A dark, gothic collision between Rumours and 'Supper's Ready', it's a subtly twisted take on 70s prog, and in places is simply spellbinding.
A 1992 reissue of the album included three bonus tracks. 'Collapse' sees Krause wail over a rumbling, ambient backdrop; 'All Hail!' is a sparse, abrasive, percussion-led piece; live recording 'Coda To Man And Boy' sees Frith wrestle a variety of unholy noises from his guitar.
In 1978, Nick Hobbs, Henry Cow's manager, invited several European groups (including Etron Fou Leloublan, yet another also on the NWW List) to play in the UK under the banner 'Rock in Opposition'. Using the slogan 'The music the record companies don't want you to hear', and benefiting from a £1000 grant from the British Arts Council, a festival was held at the New London Theatre, on 12 March 1978. Chris Cutler, on his website, commented that: 'about 450 people turned out for it. We still lost money. In every other respect, however, the whole thing was an immediate success. There was a lot of press around the world.'
In December 1978, a meeting of the musicians involved set out criteria for involvement in RIO, and three artists were elected to represent the movement: Art Bears, Aksak Maboul and Art Zoyd (to be covered in post #58). Although further festivals ensued, the organisation, as Chris Cutler put it, soon 'fell into desuetude'. However, a 'Rock In Opposition festival' has regularly taken place in France since 2007.
Hopes And Fears had been, to some extent, a hybrid album; Winter Songs (1979) was a 'proper' Art Bears LP. Recorded in two weeks in late 1978, Cutler's lyrics were inspired by carvings on Amiens Cathedral.
Winter Songs is brittle, delicate and quite cold in tone. This isn't a criticism, as there's much to enjoy about it, but there's something very bleak about it, even when it breaks out into energetic freak-out, for example 'Rats And Monkeys', which sounds like a manic European art house take on Melt-Banana. 'Man And Boy' is a darkly ambient soundscape; 'Three Figures' layers Krause's vocals over scratchy math-rock.
Their final album, The World As It Is Today (1981) has a slightly warmer feel than its predecessor, but retains an awkward and challenging tone. 'Freedom' is an angular piece of off-kilter psych-folk, embellished with Krause's wordless moans and Frith's metallic soloing; 'Democracy' is a concise yet extravagant symphonic-prog workout. Closing instrumental 'Albion Awake!' apparently took that form because Krause objected to the violent nature of the proposed lyrics. It works very well as an instrumental piece, however, mixing industrial noise with atonal synth/guitar and ominous piano chords.
Gilbert Artman
French multi-instrumentalist Gilbert Artman was born in Livarot, Normandy in 1944. I can tell you nothing of the first 26 years of his life (any info on a postcard please), but in 1970 he formed the band which he is best known for, Lard Free. (Lard Free, inevitably, are also on the List.) He also played with fellow List artists Operation Rhino and Komintern (although he didn't appear on the latter's sole album). As all of these acts will, of course, have their own entry: here I will focus on his other well-known ensemble Urban Sax, plus his various other collaborations.
Clearlight was an Anglo-French project founded by Paris-born pianist and composer Cyrille Verdeaux. Verdeaux was the only constant member, the albums containing a revolving cast of musicians, including Steve Hillage and other Gong members. Artman appeared on three 1975 Clearlight-related releases. Clearlight Symphony, on which he played drums and vibraphone, came out on Virgin, the label possibly seeing its symphonic style and two side-long pieces structure as a way of capitalising of the success of Tubular Bells, released two years earlier.  The first side (which featured Hillage, Blake and Malherbe of Gong) is a mix of classical and space-rock; the second (on which Artman plays) leans towards jazzy prog. Their next album, Forever Blowing Bubbles, consisted of shorter pieces and was more straightforwardly prog in tone.
A third 1975 release came out under the name Delired Cameleon Family, but it was to all intents and purposes a Verdeaux/Clearlight album. Musique Du Film "Visa De Censure N°X" De Pierre Clementi was the soundtrack to an experimental film directed by French actor Clementi which one reviewer described as, 'somewhere between "let's turn the camera on while we take drugs" and "let's perform weird occult tableau for the camera while we take drugs". This clip would seem to confirm this assessment.
Artman certainly kept himself busy in 1975, also contributing to a track on French electronic/prog outfit Heldon's Third "It's Always Rock'n'Roll" album. He drummed on 'Mechamment Rock', an ominously abrasive piece dominated Richard Pinhaus' Fripp-esque guitar.
Artman began the Urban Sax project in 1973. Their first performance took place at a classical music festival at Menton in the south of France, and involved 8 (or 18, depending on which source you look at) saxophonists, strategically placed around the village in order to flood its streets with continuous sound. More of an ongoing sound experiment than a group, the numbers involved grew exponentially over the years, and according to the Urban Sax website, eventually consisted of 30 saxophonists, 10 choristers, 3 percussionists, 1 bass player and 2 dancers, although literally hundreds of people have contributed over the years. There's an impressive video of a 2011 performance here. The website describes the Urban Sax experience:
'Each performance is spectacular because the group literally invades the space. Saxophonists are hung on buildings, others are on the roofs, behind the windows, some arrive by land, others by waterway…

Thanks to the transceivers, some musicians can be located several hundred
meters without this being a problem. The spectator is always surrounded by images and sounds, often even there can be musicians and dancers suspended above him. The semi-repetitive and modal music, sprung from the mouths of the saxophones and redistributed ad infinitum, modifies the consciousness and awakens the perceptions of the listeners. This is how Urban Sax recreates, in its own way, the urban landscape and forever changes the relationship of inhabitants with their city.'
The first (eponymous) Urban Sax album was released in 1977. Consisting of two side-long tracks, it's an impressively hypnotic experience. You might have expected an experimental multi-saxophonist  project to feature bursts of free jazz, but the emphasis is very much on the drone rather than the skronk. 'Part 1' is a throbbing, semi-industrial ambient piece; 'Part 2' is slightly lighter in tone, underpinned by a gently spiralling motif.
Urban Sax 2, released the following year, has a similar structure and strikes a similar tone. 'Part 3' is even darker in tone than the first album, featuring understated but malevolent chanting, punctuated by a reverberating gong. Once again, the second half of the album is lighter and more melodic, the layers of sound revolving around a simple four-note phrase, but in a shifting, undulating, evolving manner that easily bears its 17-minute length.
The next Urban Sax LP was a collaboration with Pierre Henry (yet another List artist). Released in 1982, Paradise Lost is an intriguing collision of Henry's abstract experimentation and the massed ranks of saxophonists, who are generally much more percussive and up-tempo here. Opener 'Paradise of Fools'  starts with a familiar sax drone before erupting into a mutant electro-hard bop. 'Chaos' layers a tight sax riff over fractured electronics. 'Pandemonium' does exactly what it says on the tin.
Another Urban Sax release would not appear until 1991's Spiral, which consists of shorter pieces that are more straightforwardly jazz-like and featured a slight Eastern influence as well as operatic touches. In the meantime, Artman collaborated with – guess what – yet another List artist, Jac Berrocal, appearing on Catalogue's two 1980s studio albums, Pénétration (1982) and Insomnie (1987). I'll return to these albums in post #9, when I get to Berrocal, but here's a flavour:
Artman was still making music in 2019, when he released an album with French saxophonist Étienne Jaumet.
Arzachel
A much simpler back catalogue than that of Gilbert Artman (Arzachel only released one album), this time the complications come instead from the names of the band and the musicians.
Blues-rock band Uriel were founded in London in 1967 by City of London School friends Steve Hillage and Mont Campbell (born Hugo Martin Montgomery Campbell, he also went by the name Dirk Campbell). They were subsequently joined by Dave Stewart (not the Eurythmics one, but the one had a 1981 UK number one single, 'It's My Party', in collaboration with Barbara Gaskin – he also went on to play join Hatfield and The North). Stewart was originally an aspiring guitarist, but moved to organ when he realised how much more accomplished Hillage was. The line-up was completed by drummer Clive Brooks, who was recruited via a Melody Maker ad.
Uriel (the name was taken from Paradise Lost) started out playing Hendrix, Cream and The Nice covers in youth clubs and similar venues, and spent the summer of 1968 performing at the Ryde Castle Hotel on the Isle of Wight. The residency turned out to be not quite as glamorous as they'd anticipated – the hotel landlady refused to let them stay in the hotel on account of their long hair, leaving them to sleep in their van – although they did get to play with Fairport Convention and The Crazy World of Arthur Brown.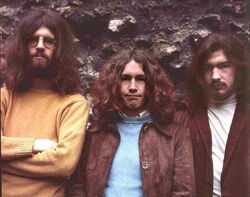 The end of the summer also saw the end of Uriel, as Hillage left to go to university. The remaining trio decided to ditch the blues-rock numbers and take a (guitarless) prog-classical approach. They renamed themselves Egg (they were advised that Uriel was too weird and sounded too much like 'urinal') and managed to secure a deal with Decca.
In 1969, the group met studio owner Peter Wicker in a Soho coffee bar. He offered them the chance to record a psychedelic album (the genre now beginning to offer profitable possibilities) at his Studio 19. To give the group a more psychedelic sound, Hillage rejoined the group during his summer break from university. As Egg were under contract to Decca, they adopted the name Arzachel (pronounced 'Ar-zackle', and taken from the name of one of the moon's craters) and all four members adopted pseudonyms. Hillage became 'Simon Sasparella', Campbell was 'Njerogi Gategaka', Brooks adopted 'Basil Dowling' (his hated maths teacher) and Stewart became 'Sam Lee-Uff' (another detested teacher).
The budget was only £250, so the whole album was recorded and mixed in one afternoon. It has become highly sought after, and an original vinyl will set you back around double the recording costs. Whether it's worth £500 is arguable, but it certainly is a prime slice of late 60s psych-prog-rock.
Opener 'Garden of Earthly Delights' is a full-blown piece of organ-led psychedelia that sees the band return to their original influences, tipping a clear nod to The Nice. The lyrics are very 1969: 'It is a sweet delicious morn / where day is breeding, never born / it is a meadow yet unshorn / which thousand flowers do adorn'.
'Azathoth' is a hypnotic slow-burner that erupts into slashing, atonal noise; 'Soul Thing (Queen Street Gang Theme)' (a tune written by Keith Mansfield, who also composed the theme tunes for Grandstand and the BBC's Wimbledon coverage) is a smokey organ blues with a melody akin to The Kinks' 'Lola'. 'Leg' is a particularly effective piece of thunderous blues-rock that echoes Robert Johnson's 'Rollin' & Tumblin''.
The album finale is 'Metempsychosis', a 17-minute wig-out psychedelic jam in the style of 'Interstellar Overdrive'-era Pink Floyd. In the sleeve notes of the 1994 CD reissue of the album, Dave Stewart says that:
'We had to make [it] long enough to fill up side 2, so we held the last chord for ages while watching the studio clock tick round – as soon as it reached quarter past, we stopped playing.'
A further reissue in 2007, Arzachel (Collectors Edition), included six bonus tracks. 'Introducing The Bass Guitarist' is a random little snippet recorded in Kenya by Campbell's parents; 'Egoman' is a ragged, stomping piece of prog-pop; 'Swooping Bill' verges on avant-garde/free jazz; ' Saturn, The Bringer Of Old Age' and 'The Stumble' are ropy but interesting live recordings of the group from 1968.
Robert Ashley
Experimental composer Robert Ashley was born in Michigan in 1930. After studying at the Manhattan School of Music, he co-founded the ONCE group, a collective of music and film makers that curated the ONCE Festival of New Music in Ann Arbor between 1961 and 1966.
In 1963 Ashley wrote and produced the first of his 'mixed-media operas', In Memoriam… Kit Carson. He also provided soundtrack music for a variety of films.
The first album released under Ashley's name was In Sara, Mencken, Christ and Beethoven There Were Men and Women (1974). It was based on a book-length poem by little-known poet John Barton Wolgamot, who Ashley and academic and poet Keith Waldrop had tracked down in 1973.
It's a truly original and captivating piece of work, although I expect not to the taste of many. Over a bubbling electronica backdrop, Ashley calmly recites the entirety of Wolgamot's looping, repetitive poem (the whole text is in the 'tracked down' link above, around halfway down). The opening paragraphs are:
'In its very truly great manners of Ludwig van Beethoven very heroically the very cruelly ancestral death of Sara Powell Haardt had very ironically come amongst his very really grand men and women to Rafael Sabatini, George Ade, Margaret Storm Jameson, Ford Madox Hueffer, Jean-Jacques Bernard, Louis Bromfield, Friedrich Wilhelm Nietzsche and Helen Brown Norden very titanically.

'In her very truly great manners of John Barton Wolgamot very heroically Helen Brown Norden had very originally come amongst his very really grand men and women to Lodovico Ariosto, Solon, Matteo Maria Bojardo, Philo Judaeus, Roger Bacon, Longus, Simeon Strunsky and Johann Wolfgang von Goethe very titanically.'
Thereafter, the poem references pretty much every culturally and intellectually notable figure from throughout history, repeated adverbs such as 'heroically' and 'titanically' forming a rhythmic baseline around which the piece revolves.
Private Parts (1978) is similar in structure to In Sara… in that it finds Ashley reciting over a repetitive bed of music, but it has a more tranquil and contemplative tone. The gently understated musical backing is provided by pianist 'Blue' Gene Tyranny and tabla player Krishna Bhatt. 'The Park's protagonist sits in a motel room, reflecting on obedience, 'outsideness' and 'differentness'. The language is opaque and inscrutable, but beautifully crafted:
And there is some machine approaching
Wider than it is high, as they say
A pack of motorcycles, a herd of elephants, a tribe of Bedouins
Something from the east
Barely moving in a cloud of heat and dust
In utmost tunnel photo
Cold and green and flat
The idea of the split
The eye of the needle
Side 2, 'The Backyard', is also sparsely evocative and moving. Again, I suspect some might find the two lengthy pieces pretentious and/or monotonous, but I find them beautifully hypnotic and relaxing.
Automatic Writing (1979) took Ashley five years to complete and is a very lengthy (46 minutes), complex and brittle piece. An unassuming keyboard floats unobtrusively in the background; fragile, hesitant percussion flits in and out; manipulated samples of Ashley's voice bubble up; Mimi Johnson (Ashley's wife) contributes ethereal whispers. It's so damn quiet in places that it forces you to lean in and focus; it's also much more jagged and challenging than the previous two recordings, but again I think it's stunning.
When the album was reissued on CD in 1996, it included two bonus tracks. 'She Was A Visitor' was recorded in 1967 and had been released on a compilation called Extended Voices. It features a loop of an Ivor Cutler-like voice repeating the song's title over a bed of shifting, minimal noise. More notable was 'Purposeful Lady Slow Afternoon', which had also previously appeared on a compilation – Electric Sound (1972).
'Purposeful' is one of the most disturbing things you'll ever hear. Over a bleak, minimal background, incongruously punctuated by a tinkling bell, Cynthia Liddell (a ONCE performer) recounts the experience of a rape victim. The description is harrowing enough, but her dispassionate, almost casual delivery makes the experience even more chilling.
In 1980, Ashley was commissioned to write an opera for television. First broadcast on Channel 4 in 1984, Perfect Lives' subject matter was described as 'bank robbery, cocktail lounges, geriatric love, adolescent elopement… in the American Midwest'; or, as the dialogue itself expressed: 'these are songs about the Corn Belt and some of the people in it'.
Fanfare magazine considered it to be 'nothing less than the first American opera, written within an American language utilizing various American attention spans: snippets for the channel switchers, layers of meaning for the smart-alecks, something for everyone…' John Cage allegedly said of it, 'What about the Bible? And the Koran? It doesn't matter. We have Perfect Lives'. A 3-CD compilation of all seven episodes was released in 1991. Director Peter Greenaway produced a 1983 documentary about Ashley which focused on Perfect Lives and is well worth watching.
The first and last of the seven episodes revisited 'The Park' and 'The Backyard' respectively (episode 2 is here; episode 3 here). A earlier version of episode 4 had been released in 1980 as Perfect Lives (Private Parts): The Bar.
More light-hearted than the previous albums, the tale of Perfect Lives' main protagonists Raoul and Buddy's encounter with Rodney the bartender ('we don't serve fine wine in half-pints buddy') is delivered in Ashley inimitable relentless yet laid-back style over Gene Tyranny's nimble, jazzy piano and organ.
Music Word Fire And I Would Do It Again (Coo Coo), released in 1981, featured relatively brief variations on some of the music that would appear in Perfect Lives. It takes a more ambient/electronica approach, utilising warped sequencers, twisted drum patterns and dubby vocals, many of which were provided by Jill Kroesen.
Thereafter, Ashley's work becomes increasingly difficult to get your head around, owing to its ambitious scope and his tendency to revisit and rework previous pieces.
A recording of another of his operas Atalanta (Acts Of God) was released in 1985: a sprawling, two and a quarter hour epic that veers dizzyingly between dozens of genres. Yellow Man With Heart With Wings (1990) is an hour-long two-track minimalist work featuring Spanish dialogue by Guillermo Grenier on side one and ambient synth-drone in the second half. Improvement (1992) is another opera that I must confess reminds me of Linda Smith's assessment of the genre in places.
Superior Seven / Tract (1995) is a modern classical piece with flecks of electronica. Dust (2000) is another opera that for me has similar flaws to Improvement. Wolfman (2003) is more to my taste, an aggressively abrasive piece of electronic experimentation.
Tap Dancing In The Sand (2007) sees Ashley return to the style of his earliest albums, his fluid monologue sitting awkwardly over a sultry free(ish) jazz background. (The 'awkwardly' is not a criticism: far from it, to my mind Ashley's work is at its best when his voice and the music are at odds with each other.)
Robert Ashley died in 2014 at the age of 83. Whilst some of his operatic work doesn't work for me (or, arguably, goes over my head) he left behind a legacy of unique, innovative and frequently astonishing music and was a remarkable talent. RIP.
NWWL Mix #05
I do not own the rights to any of this music, and will happily remove anything if asked by anyone who does.
Arzachel – Azathoth (Arzachel, 1969)
Art Bears – The Song Of The Monopolists (Winter Songs, 1979)
Area – Consapevolezza (Arbeit Macht Frei, 1973)
Pierre Henry & Urban Sax – Chaos (Paradise Lost, 1982)
Robert Ashley – The Backyard (excerpt) (Private Parts, 1978)