"A mysterious hovercraft / spaceship which announced the forthcoming return of Atlantis."
This one follows fairly rapidly on the heels of the last post, primarily because of a bank holiday weekend, but also due to the fact that none of these artists had an especially large back catalogue; three of them only managed four albums between them.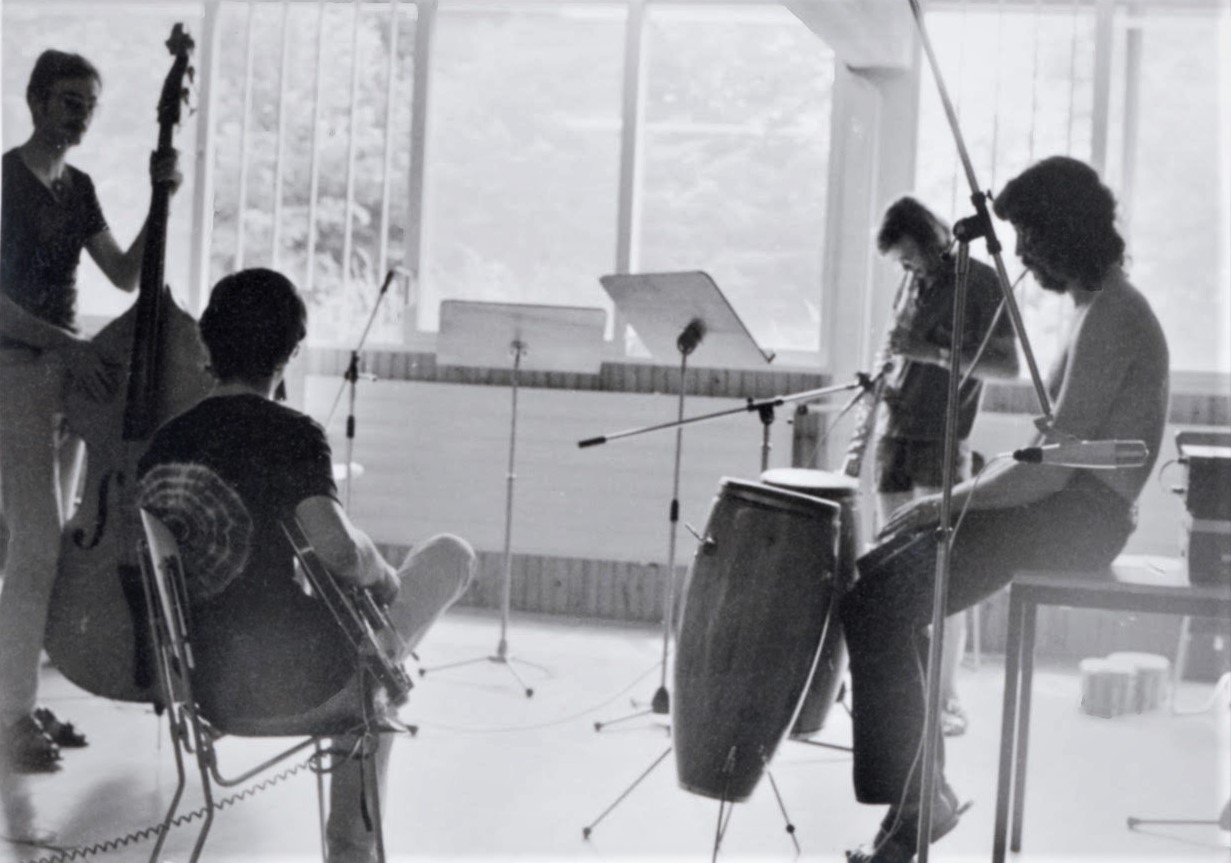 Annexus Quam
For the first of this batch, we find ourselves in Germany once again. Originally named 'Ambition of Music', the band formed in 1967 in Kamp-Lintfort near Düsseldorf. They soon renamed themselves Annexus Quam (in a 2019 interview with founder members Ove Volquartz and Hans Kämper, neither could recall the reasons why). The sleeve notes of their debut album (according to a Discogs contributor who ran them through Google translate) say that the name is Latin for 'connection'; other sites/translators suggest it might more accurately translate as 'like a connection' or 'how to/we connect'. If there are any Latin scholars out there, please advise!
Originally a seven-piece line-up, AQ were influenced by composers Stockhausen and Pierre Henry, free jazz artists like Peter Brötzmann and improv performers such as Evan Parker and Derek Bailey. They recorded their debut album for key krautrock label Ohr in 1970. According to Volquartz and Kämper, Ohr boss Rolf-Ulrich Kaiser gave them a deal as the result of Timothy Leary's enthusiasm regarding their demo tape. However, several sources (e.g. this one) suggest that Kaiser and Leary didn't meet until 1972, so perhaps they have misremembered.
Osmose – as you can just about make out in the picture above – featured an unusual multi-fold cover, where the triangular panels could be rearranged to make different visual combinations. Recorded in only two days, the four tracks (simply named 1-4) were all improvised, giving the music a loose, meandering feel, but it is never without focus and avoids any descent into self-indulgence. As was the case with several krautrock artists of this period, there's a clear flavour of Pink Floyd c.1968-69 – the laid-back, undulating '3', for example, has echoes of 'Careful With That Axe, Eugene'.
'1' takes a similar approach, the ominous groove gradually dissolving into reverberating psychedelic squiggles. The band were much more than Floyd copyists, however. '2' sees them adopt a much more uptempo approach, the song being driven by an insistent cowbell, Ray Manzarek-style organ and unearthly, wordless moans. Side-long final track '4' sees them at their most ambitious and innovative. The sleeve notes identified that the name change signified AQ's intention to 'try to connect existing and new forms of music to each other on the basis of collective improvisation', and this manifests itself most clearly here. Whilst there's still evidence of a bluesy psych-rock groove, the band interpolate their jazz influences throughout, especially through Hans Kämper's deft trombone work, Uwe Bick's nimble drumming and the free-jazz motifs that gradually emerge throughout the second half.
An increasing focus on a jazz-influenced, experimental approach led to a change in line-up. By the time AQ recorded their second and final album, Beziehungen ('Relationships') in 1972, Bick, clarinettist Werner Hostermann and bassist Jürgen Jonuschies had departed, the latter being replaced by Martin Habenicht.
Also recorded in only a couple of days or so, Beziehungen was a significant departure. The Floyd-esque psych-grooves were gone, and the free-jazz experimentation hinted at in 'Osmose 4' was pushed into the limelight.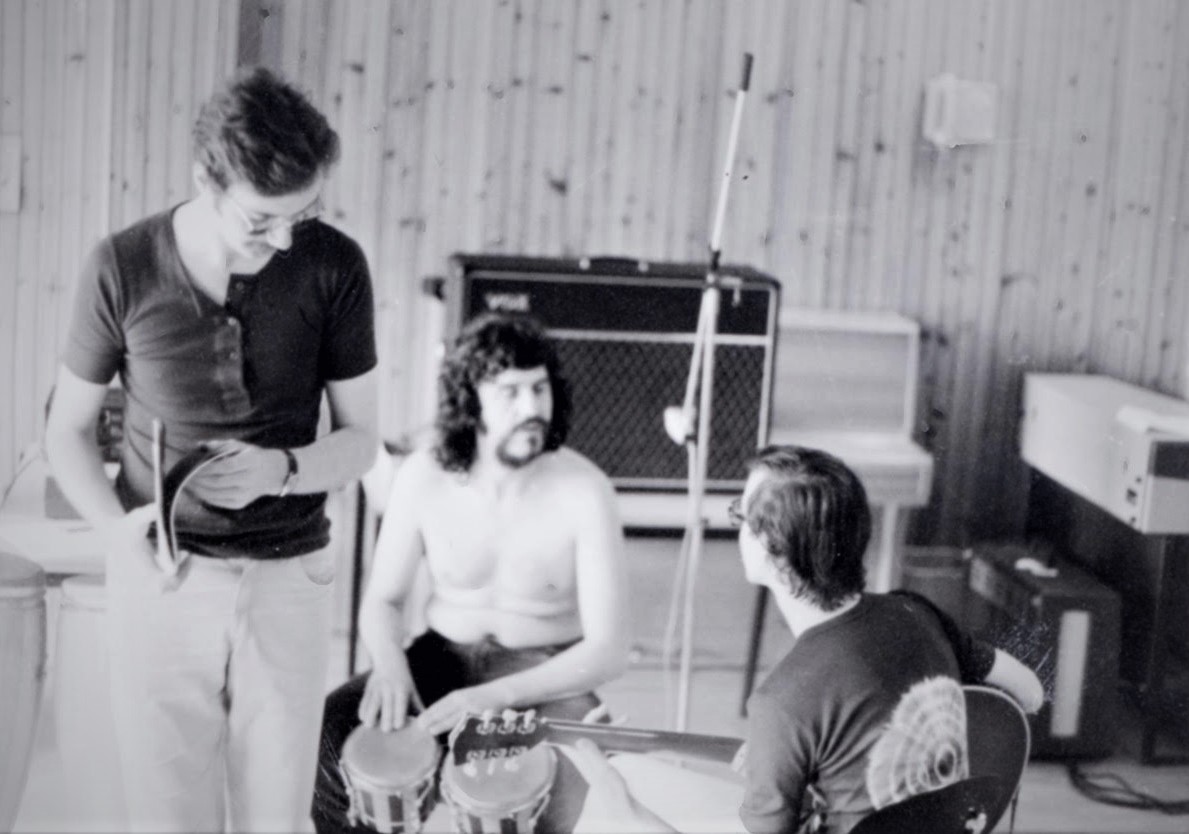 Volquartz's sax forms an effective counterpoint to Kämper's trombone throughout opener 'Trobluhs El Ë Isch', which also features flamboyant guitar flourishes and oddly aquatic background effects. 'Leyenburg 1' sees them go full-on free-jazz; it's not without invention, but feels rather like an obvious homage to Parker and Bailey. 'Dreh Dich Nicht Um' sees Volquartz's flute throw a spot of folk into the mix in the first half; in the second, his sax is again to the fore as the track fragments into sparse improvisation before the insistent folk groove returns. The album closes with 'Leyenburg 2', three and a half minutes of fidgety cello, trombone and wah-wah guitar.
The band seem to have just sort of fallen away thereafter. Various members have been involved with projects with other artists such as Tadashi Endo, Luc Bouquet and Peer Schlechta, but Annexus Quam themselves seemed to just… stop.
It's a shame. Whilst both albums are richly rewarding (Osmose especially), there's a slightly derivative feel to both. It would have been fascinating to see if they could have progressed to a successful marriage of their psych/free-jazz tendencies. Nonetheless, they left behind two LPs that are both well worth a listen.
Arbete och Fritid
Our travels now take us to Sweden. Arbete och Fritid ('Work & Leisure') were born out of  60s jazz band the Roland Keijser Quartet (Roland Keijser was a Swedish saxophonist who died in 2019, but was still performing up to 2018). Founded in 1969, they gigged prolifically around the Scandinavian festival scene, combining traditional Swedish folk with jazz and avant-garde influences, particularly Terry Riley.
Their eponymous debut album was released in 1970. It's an intoxicating blend of folk, jazz and psychedelia. Opener 'Damen I Svart' begins with an ominously sparse mix of violin/cello/piano that builds in momentum and intensity, adding percussion and brass as it develops. The title track begins in a similar fashion, but ups the energy and rattles along on a wave of clattering drums, hammered piano and skronky sax.
'Mora-Nisses Vallåt' and 'Esso Motor Hotel' are up-tempo numbers that almost have a trad-jazz flavour about them; 'Garbergsbrudens Dödsmarsch' is a traditionally folky violin piece. The highlight is 'Engelska Kanalen', which opens with a cautious, off-beat piano figure and then builds into a raucous, abandoned piece of improvisation (see the mix below).
Andra (1971) is more obviously folk-focused, although it throws in some in curiosities, such as 'Pam-Pam', which has a Flamenco/Mariachi flavour, and 'Två Grekiska Låtar' which verges on lounge-jazz. Slottsbergets Hambo Å Andra Valser (1972) was recorded with poet Rolf Lundqvist, who contributes spoken verse over a selection of traditional folk tunes and also delivers solo dialogues. 'Sveriges Undervattensbåt' combines his vocals with some curiously off-hand rock 'n' roll swing.
Another eponymous album was released in in 1973. The folk influence is even more predominant, for example in opener 'Ganglat Efter Lejsme Per Larsson, Malung', which has a distinct 'everyone drunkenly throwing their arms around each other at the end of a hard day's drinking' vibe.
Whilst the folkish slant dominates the album, there are stylistic diversions: Petrokemi Det Kan Man Inte Bada I' is a driving, scuzzy piece of space-rock; 'Ostpusten – Vastpusten' (which originally appeared on a split LP with Kustbandet called Club Jazz 6 and was a bonus track on the 2003 reissue of the album) is a lengthy Gong-style folk-jazz-cosmic jam.
Ur Spår! (1975) consisted of two side-long jams (side A – side B) of flowing folk/free-jazz improvisation; the second side dipping into joyful, swinging rock 'n' roll abandon before morphing into a hypnotic camp-fire chant. Käringtand (1976) was recorded with Swedish singer Margareta Söderberg.
Double album Se Upp För Livet (1977) opens with 'Födelsemusik', a wonderfully meandering 16-minute piece of guitar driven cosmic psych.
The rest of the album consists of mostly short pieces that take in a bewildering array of styles, including garage punk, abstract experimentation, pastoral folk, 60s-style psych-pop, acoustic ballad and murky psych-drone. It's a sprawling, rather incoherent mess, but a fascinating listen.
…Sen Dansar Vi Ut, also released in 1977, was a double album that saw the group focus solely on traditional folk.
Their final release, Håll Andan (1979) is a bizarre mix of corny rock 'n' roll ('Harmageddon Boogie'), raucous garage punk ('Jag Föddes En Dag'), gentle folk-rock ('Kopparna På Bordet') and frenetic psych-rock ('Thulcandra').
A fascinating band, with a sprawling, disparate back catalogue that I can heartily recommend you dip into.
Arcane V
A French jazz group who have been toughest artist to research thus far (my thanks, not for the first time, go to dannyno and his forensic research skills). Formed in 1977, Arcane V consisted of Jean 'Nano' Peylet (sax/clarinet/flute), Philippe Gumplowicz (guitar) and Youval Micenmacher (drums). Gumplowicz and Micenmacher had been in  'experimental ethnic fusion outfit' Sonorhc, who had released Purf in 1972. (Sonorhc – it's 'Chronos' backwards, if you hadn't twigged – went on to have a metronomic if less than prolific recording history, releasing Outreland in 1982 and K'An in 1992.) Peylet had composed music for a Lyon theatre in the early 70s before moving to Paris and playing for Yiddish singer Talila.
Arcane V's sole release was 1978's Marron Dingue ('Crazy Brown'), which also featured Michel Saulnier on double bass. It's a playful and entertaining though not especially remarkable 45 minutes of free(ish) jazz flavoured with elements of Klezmer. The lengthy title track is a crisp and energetic jazz/prog mix that has echoes of early King Crimson. 'Yoyo' is a pleasant if undemanding slice of relatively 'straight' jazz that features some nimble percussion from Micenmacher. 'Qui est à l'appareil?' has an engagingly laid-back groove.
In 1987, Gumplowicz and Micenmacher wrote a musical play called Joueurs de Jazz, which they first performed, alongside Peylet and Saulnier, at the Marne la Vallée Jazz Festival. The play recounted the history of jazz from the viewpoint of a group of Central European Jewish musicians who emigrate to the US in 1909. There doesn't seem to be any sort of recording of the play, but the group were still performing it in 1989 at the Grenoble Jazz Festival.
Gumplowicz moved into academia and wrote several books and articles about music. (One of his books has an acknowledgements page that refers to fond memories of the 'justly forgotten' group.) Micenmacher has had a widely varied career in music and acting. Peylet went on to play with a variety of artists, such as Roma-folk-jazz act Bratsch.
Archaïa
Another French band, another who only recorded one album and another where details are hard to come by, other than they were a short-lived outfit based in Paris. Their eponymous LP, released in 1977, was an example of the Zeuhl approach to prog, a bombastic, operatic style popularised by Magma. Archaïa isn't as densely complex as Magma's work, although it's still a rich and fascinating piece.
The line-up was Pierrick Le Bras (guitar, keyboards, vocals), Michel Munier (bass) and Philippe Bersan (vocals, keyboards). There was no drummer (many online reviews describe the album as a 'drumless Zeuhl'), although Bersan provided percussion.
Opener 'Soleil Noir' is based around an oscillating bass riff and fuzz-psych guitar, the ghostly, dispassionate vocals providing an effective counterpoint.
'Sur Les Traces Du Vieux Roy' is a gently insistent piece of psychedelia that sounds like Gong covering Pink Floyd's 'Run Like Hell'. 'La Roue' is a curious funk/prog mix; 'Le Grand Secret' features ghostly vocals over a bed of fuzzy guitar and spooky Twilight Zone synths. 'Vol du Phenix' is a gently hypnotic piece of bongo-driven acid-psych.
The original LP is a highly-prized rarity amongst collectors; if one does pop up, be prepared to part with at least £200. It got a CD reissue in 1998 on the French Soleil Zeuhl label, but even this will leave you with little change from £80. It included a booklet in which Le Bras and Munier explained that the origins of the album lay in an encounter (that they apparently had during a trip to England) with a mysterious hovercraft / spaceship which announced the forthcoming return of Atlantis.
M./ore importantly, the CD included three bonus tracks. 'Armaggedon' lives up to its name, murky, doom-laden chant filled with layers of demonic voices.  The two remaining songs were recorded live in Paris in 1978, and feature Patrick Renard on drums and Alain Evrard on percussion. 'Robots Dans Le Formol' ('Robots In Formalin') is similar to 'Armaggedon' in approach, but the addition of Renard's excellent drumming edges it closer to a true Zeuhl style. 'Chronos' is a more straightforward – although equally good – piece of psychedelic, bluesy prog with a nicely apocalyptic finale.
Like Annexus Quam, Archaïa just seem to have vanished.
Archimedes Badkar
After a spell in France, we find ourselves back in Sweden. Archimedes Badkar ('Archimedes' bathtub') were formed in Stockholm in 1972 by percussionist Per Tjernberg. Consisting of an extensive line-up (as can be seen from the Badrock picture and credits below), there was some overlap in personnel with Arbete och Fritid; in fact in the late 70s the two groups occasionally performed together under the name ArbArch. Several members of the group had travelled extensively in Africa and India, and the African influence especially was frequently a key feature of their work.
Their first record was the 1973 self-released Rumpstek single. Limited to 100 copies, it's another rarity that will put a significant dent in your bank balance should you be determined to acquire it. I have been unable to track it down online.
Their debut album, released in 1975 on the MNW label, was Badrock För Barn I Alla Åldrar (Google translate suggests 'Bathrobe For Kids Of All Ages', although I'm not convinced about 'bathrobe'!).

It's a diverse mix of prog, folk, jazz and Eastern/African influences. Opener 'Det Stod En Kärring Uppå Torget' is a tight, agile almost poppy piece that has a touch of Frank Zappa about it. 'Sweet Love' combines nimble psych-pop with free-jazz sax and trumpet soloing. The lengthy 'Wago-Gozeze' builds slowly, underpinned by a hypnotic keyboard motif and featuring meandering sax before the drums eventually kick in two-thirds of the way through. leading to a ragged, abandoned finale.
One of the album's highlights is the group's smokey, laid-back take on Coltrane's 'A Love Supreme', which segues beautifully into the twitchy wah-wah funk-rock of 'Järnet!'
The double album Archimedes Badkar II followed in 1976. In general, the songs were lengthier and the Eastern influence was more prevalent, for example on the raga-like opener 'Förtryckets Sista Timme'. There was still a great deal of diversity, however: the sparse, traditional folk of 'Rebecca'; the hypnotic, delay-soaked ambience of 'Radio Tibet'; the scratchy, brittle free-jazz/folk hybrid 'Två Hundra Stolta År'; 'Jorden's dark ambient drone.
Tre (1977) saw the group continue to meld Eastern, folk, jazz and prog influences with  invention. 'Desert Band' contrasts a busy tabla rhythm against a lugubrious clarinet; 'Slum' features a haunting recorder melody before building into a bluesy sax solo; 'Akombah' is a skittering piece of Rio carnival-style samba. Opener 'Badidoom' saw them focus on the jazz side of things:
Archimedes Badkar's final release was a collaboration with Tanzanian band Afro 70, released in 1978.
NWWL Mix #04
I do not own the rights to any of this music, and will happily remove anything if asked by anyone who does so.
Arbete Och Fritid – Engelska Kanalen (from Arbete Och Fritid, 1970)
Archimedes Badkar – Sweet Loves (from Badrock För Barn I Alla Åldrar, 1975)
Annexus Quam – Dreh Dich Nicht Um (from Beziehungen, 1972)
Archaïa – Soleil Noir (from Archaïa, 1972)
Arcane V – Marron Dingue (from Marron Dingue, 1978)