"A poor to mediocre player, with a granite sense of rhythm and a similarly rigid approach to melody."
Many thanks again for the likes, shares, retweets for the first two posts. Obviously the subject material is less mainstream here than was the case with The Fall, so any way that readers can think of to share the blog with others who might be interested in the odd sounds featured would be much appreciated! Anyway, on with instalment three, which starts in the UK, then heads to Germany, taking in an American interlude…
AMM
Named as 'AMM Music' on the NWW List itself (actually the title of their debut album), AMM were founded in London in 1965 by Eddie Prévost (drums), Keith Rowe (guitar) and Lou Gare (sax). In a 2001 interview, Rowe stated that 'the letters AMM stand for something, but… it's a secret!'
All three had a jazz background (Rowe and Gare were members of Mike Westbrook's jazz band; Gare also played alongside Prévost in a hard bop quintet), but had become frustrated by what they saw as the limitations of the genre. Rowe: 'We wanted to move on from what jazz was about. We were inspired by what black American musicians had done, but we found the jazz form terribly limiting.'
Whilst at Plymouth Art School (where Westbrook was a fellow student), Rowe had an epiphany in painting class:
'In painting school, you have to find our who you are, what is unique about you, what you have to say. You can't take a canvas and paint a Georges Braque, or a Picasso, someone else's paintings.. it's an impossibility. One of the great lessons for me was the professor pointing right into my nose saying, "Rowe, you cannot paint a Caravaggio. Only Caravaggio can paint Caravaggio." Suddenly trying to play guitar like Jim Hall seemed quite wrong… Who am I? What do I have to say?'
Inspired by Jackson Pollock's radical approach to painting technique and John Cage's prepared piano, he began to experiment with 'tabletop guitar', a technique first deployed by Bjørn Fongaard. Laying the guitar flat on a table, Rowe placed springs, alligator clips and an assortment of other random objects on the strings in order to manipulate the sound.
Before they had a name or a proper group identity, Gare, Rowe, and Prévost came together to play experimental workshops at London's Royal College of Art in 1965. Other musicians either sat in with the group or observed proceedings; both Paul McCartney and Ornette Coleman attended sessions (Coleman was asked to leave for talking during the performance). At the same time, Spontaneous Music Ensemble (whose fluid line-up occasionally included Derek Bailey and Evan Parker) were developing a similar approach. Although Rowe suggests that there was little contact between the two ensembles, Prévost asserts that 'SME generously invited AMM to perform from time to time at the Little Theatre Club, Monmouth Street, in London's West End'.
By 1966, the name AMM had been settled upon and the line-up had been augmented by bassist Lawrence Sheaff (also from Westbrook's band) and Cornelius Cardew on piano and cello.
Their first album, 1967's AMMMUSIC, consisted of two twenty-minute improvisations, 'Later During A Flaming Riviera Sunset' and 'After Rapidly Circling The Plaza', recorded in June 1966. Despite the musicians' backgrounds, there's little sense of jazz in 'Riveria Sunset' until the last few minutes, when Gare's sax breaks out into occasional bursts of something approaching conventional free jazz. The majority of the track is an astringent, reedy drone, where it's often difficult (a deliberate strategy) to identify which musician is making which harsh and jagged noise. 'Plaza' has – in some places at least – a more percussive focus, and favours aggressive stabs of noise rather then relentless drone.
The Crypt – 12 June 1968, recorded in Notting Hill Gate, saw percussionist Christopher Hobbs added to the line-up (Sheaff left after AMMMUSIC, and seems to have dropped out of music altogether thereafter). Regarded by many as the group's seminal work, it wasn't released until 1981. In places, it truly pushes at the boundaries of what is actually listenable, veering between the horrifying, the hypnotic and the ridiculous. Even Rowe considered it 'impenetrable', although he also compared it to a vintage wine: 'It took an incredibly long time for it to be drinkable. It's very tough.'
Throughout the 1970s, the line-up fluctuated: Prévost was (and would continue to be) the only constant; Rowe and Gare flitted in and out. This was partly due to tensions in the group – especially between Prévost and Rowe – over their political standpoint. (This review of a book by Prévost suggests that he can be a rather irascible character.) To Hear And Back Again (1978) saw Prévost and Gare knock out two extended pieces of fluent if not especially innovative sax and drums jazz, although the 1994 reissue added some more experimental material.  In 1980, Prévost and Rowe produced It Had Been An Ordinary Enough Day In Pueblo, Colorado.
It's very much the equivalent of To Hear And Back Again, but with Gare's sax replaced by Rowe's surprisingly conventional fuzzy free-jazz/prog soloing. Opening track 'Radio Activity' also sees Rowe using radio samples, an approach that he began to use frequently in live performances, using his guitar pick-ups to pick up local radio stations.
In the 80s, pianist John Tilbury – a previously occasional collaborator – joined the group on a permanent basis. The Rowe / Tilbury / Prévost line-up formed the basis of the band (augmented by guest appearances from the likes of Evan Parker) until 2004, when Rowe departed, although he rejoined in 2015.
The group remained relatively prolific from the 80s onwards. Tilbury's influence saw them take a more minimalist approach, for example on Generative Themes (1983), which saw Rowe's radio samples ebb and flow over a bed of sparsely discreet instrumentation.
The Inexhaustible Document (1987) was stripped back even further over its first half, although the second side throws in some more aggressive dissonance. Before Driving To The Chapel We Took Coffee With Rick And Jennifer Reed (1997) also mixes scratchy, cracked guitar, rumbling percussion and piano that veers between the delicate and thunderous over the occasional understated but relentless drone.
From 2005, following Rowe's departure, the group operated largely as a Tilbury – Prévost duo, releasing an album every couple of years, nearly all on the Matchless label. The duo were occasionally joined by guests such as Evan Parker and Christian Wolff, the latter of which had first collaborated with AMM as far back as 1976.
One such collaboration was 2008's Trinity, featuring saxophonist John Butcher. Like much of AMM's later output, it takes a very sparse and sedate approach (closing track 'Conduit' almost completely vanishes in places), although 'One Tree Hill' sporadically builds into menacing drones, punctuated by Butcher's guttural sax.
Uncovered Correspondence – A Postcard From Jasło (2010), recorded live in Poland by the duo alone, is even more extreme in its minimalism. Silence is almost an important an instrument as Tilbury's piano and Prévost's percussion and noise manipulation. It's not for the impatient listener, certainly, and if you're not in the right frame of mind for it then it can feel frustratingly hesitant and ponderous in places. However, if you can let yourself 'drift' and go with it, you're rewarded by an immersive, complex experience created by two performers with an intuitive understanding born out of decades of collaboration.
Sounding Music (also released in 2010) features, by AMM standards, an extravagantly large line-up, Prévost and Tilbury being joined by Butcher, Wolff and cellist Ute Kanngiesser. Her cello, very subtly, brings an intriguing extra dimension to the sound, but even though it's a quintet performance, the one lengthy piece is still incredibly spare, brittle and delicate. Rowe rejoined AMM for their performance at the Huddersfield Contemporary Music Festival (see above); he also played on the 2015 and 2016 performances collected on the triple CD An Unintended Legacy, released in 2018. The CD booklet was dedicated to Lou Gare, who died in 2017.
Amon Düül
In some ways, Amon Düül are the most significant group on the List. Their 1969 debut album, Psychedelic Underground, was the first album that Steven Stapleton bought; in the sleeve notes for Strain Crack & Break: Music From The Nurse With Wound List Volume One, he explains:
'The reason [I bought it] was the amazing tripped-out cover art, unlike anything I had ever seen and then I heard the music it contained and it, as they say, "blew my mind". This started me on a journey of investigation and discovery.'
Amon Düül's origins lay in a left-wing, libertarian commune in Munich that developed in 1967. In a 2015 article for The Quietus, David Stubbs describes them as representing 'a philosophy, a means of getting away from the patriarchal, nuclear family structure, a way in which young people, some of whom were post-war orphans, could find new ways of organising themselves socially, engaging in self-discovery and a new sense of identity as young Germans.'
Membership was fluid, and their inclusive policy that valued enthusiasm over proficiency (even the commune's children joined in) was a precursor to punk's DIY 'here are three chords, now form a band' approach. They were invited to perform at the September 1968 Internationale Essener Songtage festival (the line-up of which included Tangerine Dream, Guru Guru and Frank Zappa), but in the days leading up to the performance, a schism developed between those who wished to maintain inclusivity and those such as Chris Karrer and John Weinzierl who wanted to adopt a more conventional and commercially viable approach. The latter faction became Amon Düül II (see below).
Those who were resistant to the commercial/conventional attitude (or as David Stubbs puts it, those 'who merely wished to sit in circles playing bongos at varying speeds') went into a recording studio in late 1968 and spent several days recording lengthy, improvised jams that would go on to form the bulk of Amon Düül's output.
Psychedelic Underground, released in 1969, opens with the 17-minute 'Ein Wunderschönes Mädchen Träumt Von Sandosa', a distorted, heavily percussion-driven mantra. The whole album is raw, ragged, blaring; it verges on the aimless and self-indulgent, but there's something admirable about its commitment and unified sense of purpose (even if it's not entirely clear what that purpose might be). Julian Cope, in his book Krautrocksampler, suggests that the track'Mama Düül Und Ihre Sauerkrautband Spielt Auf' (which translates as 'Mama Düül And Her Sauerkraut Band Plays On') is the origin of the British press's use of the term krautrock.
Much of the rest of the group's back catalogue was cobbled together from the original, lengthy sessions. Collapsing Singvögel Rückwärts & Co. (also released in 1969) mainly consists of shorter pieces than its predecessor, but is no less astringent and unfocused. It throws in a bit of special effects and tape manipulation that doesn't add a great deal, and the whole thing has an out-takes/rehearsals/bonus disc feel about it. There are, however, a few moments of effectively aggressive clatter, such as 'Big Sound'.
Paradieswärts Düül, recorded and released in 1970, was the first and only of the group's albums not to be taken from the 1968 jam sessions. In comparison to the first two albums, it's startlingly coherent, gentle and conventional. Opener 'Love Is Peace' maintains the group's commitment to lengthy repetition, but this time it's in the context of a lithe, fluid groove that meanders randomly but gracefully.
The original '68 freak-out jam sessions must have been epic in length, as 1972 saw a third album (this time a double LP) compiled from the recordings. To many kraut/prog aficionados, Disaster (Lüüd Noma) was appositely titled, although it isn't without its admirers. Julian Cope called Disaster, Underground and Collapse 'extraordinary classics… relentless, uplifting and full of the crudest gimmicks that all work perfectly', although notably he only included Paradieswärts Düül in his 'Krautrock top 50'.
The sound is, unsurprisingly, very similar to that on Psychedelic Underground – remorseless, abrasive and very much of the 'sit in circles playing bongos' approach. Lengthy jams like 'Frequency', 'Drum Things' and 'Broken' tread a fine line between hypnotic and monotonous, and mostly sound like a group of stoned teenagers endlessly rehearsing 'Sister Ray' in a garage. 'Somnium' offers a little more variety, including a semi-poppy guitar strum, some comparatively gentle and understated sections as well as a (very) brief snippet of skronky sax right at the end. (It's not clear what the sax player might have been doing throughout the rest of these marathon sessions.) 'Asynchron' and 'Autonomes', however, are lumbering and awkward; 'Yea Yea Yea' is an oddly flippant take on The Beatles' 'I Should Have Known Better' that has the distinct air of a house party at the 'foreign liqueurs from the back of the cupboard' stage where someone has unwisely fetched the host's guitar and bongos downstairs.
Remarkably, a fourth album – and another double – was squeezed out of the '68 sessions. Experimente (1984) is in many ways much of the same, although the sound quality is actually a little better than the other three, presumably due to 15 years more up-to-date technology. The big difference is that these are snippets – many only one or two minutes long – rather than lengthy jams. As one reviewer on Prog Archives puts it:
'It scrapes the crusty dregs from a long-empty barrel… the momentum of every groove is killed at each arbitrary splice, with 23 cuts over 67 total minutes, all of them with the painful shock of a tooth being pulled, minus any anaesthetic.'
That said, he does go on to say that:
'The grooves themselves, plodding as they are, possess an almost ambient purity to them, like caveman party music before the discovery of fire.'
Of course, according to guitarist John Weinzierl, one of the musically proficient commune members who went on to form Amon Düül II, 'Amon Düül I' never even existed. After the schism, the 'non-musician members' went into the studio until they were kicked out by the producer for 'recording useless shit'. The recordings were discarded (bizarrely, Weinzierl describes them as being 'thrown into a dungeon', although this might be an error of translation) until an unscrupulous producer dug them out to cash in on Amon Düül II's fame. 'Every time we released an album, he cut an album's worth of those tapes and brought it to the market to use our success.' The guitarist certainly does not share Julian Cope's enthusiasm for the material: 'the sad thing is that some people like this shit'. There is, however, no place in his narrative for Paradieswärts Düül.
Amon Düül II
As described above, Amon Düül II was born out of the split between those in the commune who wanted to maintain an 'everyone is a musician' ethos and those who, according to Julian Cope, 'couldn't bear to see the commune's music falling into a free-form freakout of bongos and acoustic guitars only'. This latter group included Chris Karrer (guitar/violin), John Weinzierl (guitar/bass), Renate Knaup (vocals), Peter Leopold (drums) 'Shrat' (aka Christian Thiele – bongos/vocals) and Dieter Serfas (drums).
For their debut album, they were joined by artist Falk-Ulrich Rogner on organ (Rogner would design much of the band's cover art) and Englishman Dave Anderson on bass. (Anderson would go on to play in Hawkwind then found Foel Studios in mid-Wales, where The Fall recorded their 1980 single 'Fiery Jack').
Phallus Dei (which literally means 'God's penis') was released in 1969. The first side (some editions seem to label it as side 2) features four tracks that take you on a dizzying, eclectic ride, opening with 'Kanaan's B-move Western soundtrack style drums and concluding with the quasi-operatic vocals and militaristic snare pattern of 'Henriette Krötenschwanz'. In between, there are urgent passages of spacey prog, frantic bluesy guitar, splashes of jazzy vibraphone (courtesy of Christian Burchard of Embryo), jazz-funk(ish) bass, folky violin, sections of atonal almost math-rock guitar and tinges of Eastern mysticism. The vocals (not, admittedly the album's strongest feature) range from ethereal, wordless moans (from Knaup) to dispassionate spoken word to manic whooping; there's even (towards the end of 'Dem Guten, Schönen, Wahren') a megaphone-style rant that may well have inspired Mark E. Smith.
Excitingly varied as it is, this half of the album doesn't quite pull together the band's multitude of ideas and approaches with consistently coherent quality. Far superior is the epic 20-minute title track that fills the other side. Here, their invention coalesces into a thrillingly inventive and carefully-paced blend of psych-prog-experimental styles; it even contains a nod to their communal past in a frantic 'sit round playing bongos' passage halfway through. A 2000 reissue included 20 minutes worth of Hawkwind-esque space-rock; a 2006 remaster added two somewhat inessential ten-minute out-takes.
Their follow up, Yeti (1970) is regarded by many as their best, and almost always features towards the top end of 'best of krautrock' lists. Julian Cope, who chose the album's striking artwork (again by Rogner) as the cover of Krautrocksampler, describes the double LP as 'possibly the Ur-Kraut' album of All'.
Over the first disc, they tone down the rather impulsive eclecticism of Phallus Dei in order to craft a much more focused set of arranged material. That's not to say it's without variety, though: amongst the familiar prog-psych passages, there nestles semi-operatic weirdness ('Gulp a Sonata'), galloping acoustic folk ('Cerberus') and abrasive, industrial doom ('Pale Gallery'). And in 'Archangels Thunderbird' (released as a single) the group created a manic, bona fide hard rock classic. (The song was often played live by Kim Deal's The Breeders.)
Disc 2 consists of three lengthy, sprawling improvised tracks. The first two – the title track and 'Yeti Talks To Yogi' – are similar in approach to Saucerful of Secrets-era Pink Floyd (especially 'Yogi') but are far from derivative. The loose structure gives the musicians space to express themselves freely, but neither are ever self-indulgent. The closing track, 'Sandoz In The Rain' (Sandoz was the company in Switzerland that produced LSD) is lower key, almost delicately folky. The fact that three members of the 'other' AD participated can be felt in the loose, jammy feel.
Tanz der Lemminge (Dance of the Lemmings) was released in 1971. Anderson, who had left to join Hawkwind, was replaced by Lothar Meid, and the album featured a relatively slim five-piece line-up. The ambition certainly wasn't slimmed-down, however: another double album (again featuring beautifully surreal artwork from Rogner), it generally took a classic prog side-long suite approach. Side 1's 'Syntelman's March Of The Roaring Seventies' has echoes of Genesis, King Crimson and Pink Floyd, and includes a deft, fluid mix of acoustic, electronic and electric approaches. Flip-side 'Restless Skylight-Transistor-Child' veers between fuzzy Beefheart blues, ominous sitar-driven rock, shards of abrasive abstraction, crazed psych-rock with manically babbling vocals, Sabbath-style riffing and overwrought folky melodrama. Overall, disc one is a masterpiece of eclectic invention.
Disc 2 (or at least part of it) was used as the soundtrack to Veit Relin's 1972 film Chamsin. The film was a re-working of The Bride of Messina, a 19th century tragedy by Friedrich Schiller. (There's a clip of it here, which features 'Stumbling Over Melted Moonlight' from side 4 – it's not exactly hardcore, but still NSFW. It also – in terms of acting and dialogue – looks bloody awful.)
The received wisdom is that by side 3 ('The Marilyn Monroe-Memorial-Church'), the album starts to lose its way. However, there's a lot to value in 'Marilyn', an understated, ethereal piece that, although it doesn't provide the thrilling peaks of the first disc, provides a very different but equally satisfying blend of atmospheric, occasionally atonal abstraction. By the final side, however, the album does start to feel a little stretched. There's nothing wrong with the three loose-limbed bluesy jams in themselves, but they feel somewhat out of step with the rest of Tanz, and feel like a set of studio out-takes bolted on to an 'expanded' reissue as bonus tracks. My personal modernised preference would be for a three-track, 53-minute CD: 'Seventies' / 'Marilyn' / 'Restless'.
Carnival in Babylon (1972) saw the group take a more concise approach, with only two of the six tracks straying beyond seven minutes. There's a much more gentle, folky and hippy-ish tone throughout, albeit one that's infused with occasional bursts of fuzz-guitar. Renate Knaup's vocals are much more prominent than in previous releases. It's all pleasant enough, but for me it lacks the level of innovation seen previously.
The group's second album of 1972, Wolf City, saw them continue to take a more commercial approach. Opener 'Surrounded By The Stars' is a tuneful piece of earnest, folkish pop-rock, again focused on Knaup's vocals. Although it has its moments ('Jail-House-Frog' is a strangely quirky slice of cabaret-prog; 'Deutsch Nepal' an ominous burst of mellotron grandiosity) Wolf City feels rather lightweight overall. Arguably, the most interesting thing about the album is the story of its cover art.
There are many ADII fans who prefer the later period of their material, finding it more melodic and polished. As a matter of personal taste, I have to say that these are the exact reasons that I prefer the 1969-71 albums. To me, neither Vive La Trance (1973) or Hijack (1974) are especially inspiring; both feature rather awkward excursions into a mainstream blues-rock sound, such as 'Pig Man' and 'Mirror' and feel overall like the group had lost its way.
Made in Germany (1975) was a more interesting diversion, a concept album that saw the group diving headlong into a curious cocktail of bold, cabaret/stage musical numbers mixed with funk-blues-rock-pop variations. The Groucho Marx-style 'interview' with Adolf Hitler, '5.5.55', was undoubtedly a brave move at the time, but the highlight is the downright peculiar 'Mr. Kraut's Jinx'.
By the time Pyragony X was released in 1976, only Leopold, Weinzierl and Karrer remained from the earlier line-ups. It's a very patchy affair. 'Flower of the Orient' is a decent enough bit of MOR-prog, but overall there's just too much half-hearted, lightweight and aimless pop-rock for me, as illustrated by fey, hesitant love song 'Capuccino'. Only Human (1978) was an unholy union of Steely Dan, Supertramp and Weather Report. Amon Düül II officially disbanded in 1981, although they have continued to record and perform in various combinations thereafter.
Whatever they might have recorded afterwards, Amon Düül II's work from 1969-71 was truly remarkable. Not only was it exciting and innovative, but it was one step ahead of their contemporaries. There were equally good krautrock releases in the golden period of the early 70s, but Amon Düül II had already produced Phallus Dei and Yeti before the decade had barely got underway. As Julian Cope put it, 'of all the great Krautrock groups, Amon Düül II were surely the most true to the trail'. 
Anal Magic and Reverend Dwight Frizzell
This has been, thus far, probably the hardest to research (not least because 'anal magic' is, obviously, something you have to be very careful about googling). If anyone knows anything that I have omitted or got completely wrong, then do let me know. Anyway, as far as I can tell…
Dwight Frizzell was born (no one seems to know when) and brought up in Independence, Missouri, the home town of US president Harry S. Truman (we'll come back to him later). He became (although it's not entirely clear when) a minister in the Universal Life Church, a non-denominational religious organisation whose USP is allowing pretty much anyone who wishes to to become an ordained minster. (Those who have taken advantage of this opportunity include – according to Wikipedia – Richard Branson, David Byrne, Benedict Cumberbatch, George Harrison, John Lennon, Courtney Love, Ian McKellen, Alanis Morissette and Vanilla Ice.)
The only release under the name Anal Magic & Rev. Dwight Frizzell was Beyond The Black Crack (1976). Only 200 copies were pressed originally, and a vinyl copy will set you back around £300.
If you don't have £300 to spare, the album is available to download via Bandcamp for only £7. The Bandcamp page contains this description, which is repeated on several other sites:
'Recorded between 1974 and 1976 in locations as diverse as factories, the pyramid opposite Harry Truman's grave site as well as more 'conventional' concert settings.'
The album credits give you a flavour of the contents:
Rev. Dwight Frizzell – tenor saxophone, clarinet, audio oscillator, chair, trash can, pins, soy beans
Mike Roach – clarinet, vocals with laughs, tenor saxophone, dancing
Kurt Eckhardt – mouth flute, percussion, pins, soy, alteration.
It opens with 'Black Crack And The Sole Survivors', a fractured and disjointed 12-minute journey through distended, overlapping rhythms, bebop sax, unearthly moans, jaunty piano and reverberating tape loops. It is, frankly, marvellous. 'Get It Out Of Your System' sounds like a high school marching band descending into an acid-induced frenzy; 'Journey of Turtles' and 'Pre-Transfromation Of Turtle To Bird' are full of murky, twitchy percussion and hyperactive children, underpinned by smoky, off-hand sax.
Concluding track 'O What A Joy It Is To Know You Have A Turtle Heart' features a coiling, double-tracked sax that slowly disintegrates into a gently discordant, crackling loop. A 1998 reissue included 20 minutes of bonus material, the highlight of which is 'Family, Birth Of Helio And Selene', seven minutes of almost timid, reserved free jazz.
Frizzell worked as an editor for The Pitch in the early 80s. He conducted a series of interviews (over ten years) with Sun Ra that featured in John Szwed's book, Space is the Place: the Lives and Times of Sun Ra. He went on to form the Black Crack Revue, an 'Afro-nuclear wave funk swing reggae Turska band'.
In 2000, he released Natural Selection, a sparse collection of field recordings, gentle electronica and vintage dialogue. The following year's Bullfrog Devildog President featured samples of Harry S. Truman's piano playing (according to this review, 'Truman was a poor to mediocre player, with a granite sense of rhythm and a similarly rigid approach to melody'). Truman's undeniably stilted piano work is spread across the album in the form of five versions of 'Black Hawk Waltz' (composed by Mary E. Walsh c.1880), with which Frizzell takes increasing liberties as he moves from version 1 to 5, adding layers of whistling,  percussion, skittering guitar and synthesised prog soloing.
Other tracks such as 'The Irish Wilderness' and 'Scrat' are sonic collages of cathedral organs, running water, machine gun percussion, bluegrass violin, breathless vocal samples, twitchy electronica and distorted radio static. (The cover described the album as 'Séances-in-sound using folk music, archival recordings, voiced texts, bio-electronics and Ozark soundscapes'). The highlight is 'Devildog (Double Quartet Version)', which opens with understated violin/sax skronk overlayed with radio dialogue before bursting into Gong-style space-jazz that becomes progressively and impressively unhinged.
Anima
Percussionist Limpe Fuchs was born in Munich in 1941. She studied music at the Munich conservatory where she met and then married sculptor Paul Fuchs. Under the name Anima-Sound, they recorded Stürmischer Himmel, which was released in 1971.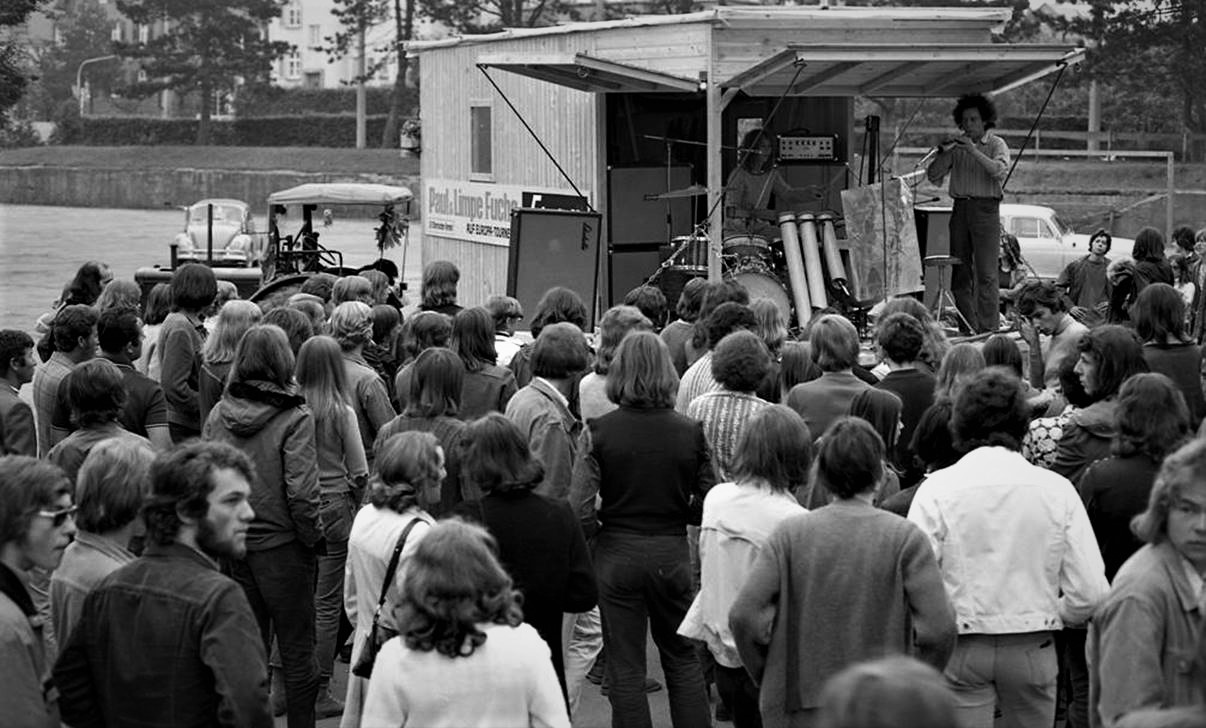 Stürmischer Himmel opens with the sound of sheep bleating on a blustery hillside before descending into a aimless, jerky cacophony that sounds like a stripped-down, extended version of the intro to Pink Floyd's 'Astronomy Domine'. It continues in the same vein for the next 40 minutes or so, randomly thumping, squawking and warbling away in what feels like a single take. For me, it falls on the wrong side of the innovative, challenging improvisation / tedious self-indulgence line; there are some interesting ideas and motifs lurking in here, but overall it's just too shapeless and incoherent.
Under the name Anima, Paul and Limpe released an eponymous album in 1972. The line-up was augmented by Friedrich Gulda on piano and J. A. Rettenbacher on bass. Anima consists of two side-long pieces, 'Meeting In The Studio' and 'Anima-Live'. According to the sleeve, 'The music contained herein is totally improvised. Nothing has been premeditated or decided beforehand.' The addition of Gulda and Rettenbacher certainly fills out the sound, and the album avoids the monotony of their previous release. Gulda's piano adds a jazzy tone, there's more dynamic variation, and it includes splashes of chaotic invention. However, Limpe's wordless vocals are definitely an acquired taste and at 48 minutes, it feels overly stretched.
Monte Alto (1977) again features two side-long pieces. The first, the title track, reverts to Paul and Limpe as a duo, playing home-made instruments such as the 'fuchshorn' and 'fuchszither'. It's much sparser than the previous releases, and benefits from it, although it rather runs out of steam and starts to drag in the middle. It's rescued to some extent by Paul's free-jazz style 'fuchshorn', and there's a pleasingly understated, modulating coda; however, once again, you can't help feeling that a judicious edit (perhaps taking it down from 24 minutes to 12-15) might have been in order.
The flip side is the 23-minute 'Piano Toscana', an improvised solo piano piece by Limpe. It's surprisingly conventional, almost (although not quite) nudging into Keith Jarrett territory in places. It's also the first Anima piece that, for me, justifies its extravagant length; Limpe pulls off the impressive feat of deftly maintaining interest over 23 minutes of carefully paced and inventive solo piano.
In 1982, Anima produced a double album, Der Regt Mich Auf / A Controversy, which saw Paul and Limpe's son Zoro join the line-up on drums. The first disc featured six tracks of (by their standards) concise length. That said, opener 'Der Regt Mich Auf' – a frantic, disjointed piano/bass/drums workout – still clocks in at fifteen minutes, although none of it feels wasted. Also, there's more variation in terms of the sound palette across these six tracks than had been the case on previous albums. The percussive 'Außengalopp' manages somehow to be simultaneously sparse and dense, with a hint of jazz-funk bass; 'Mit Absicht' features a mutated Hawaiian-style guitar; 'Tatsachen' deploys what sounds like a hyperactive marching band over the drum track from 'Wipe Out'.
The second disc saw them return to the side-long track approach. 'A Controversy' begins as a rather shrill, dislocated and abrasive percussive piece before morphing into an ominous, grainy drone, flecked with murky slide guitar. 'Freeano Forte' is forgettable, a haphazard collection of disparate noodlings.
Via (1987) featured seven tracks, none of which, for once, broke the ten-minute barrier. It was actually a Limpe Fuchs solo album in all but name. There's a much greater focus on electronics, several tracks being underpinned by pulsing synths; Limpe's idiosyncratic vocals are also prominent.
Via was the final Anima release, although Limpe has continued to release music under her own name, for example Nur Mar Mus (1999) and Pianobody 2002 (2006), the latter of which features brief shards of abstract piano and Japanese-style guitar as well as a lovely piece of ambient drone:
She also performed with Evan Parker, releasing a live recording in 2017. Her most recent release was Walker Street 55 (2019).
NWWL Mix #03
I do not own the rights to any of this music, and will happily remove anything if asked by anyone who does so.
Anima – 'Tatsachen' (from Der Regt Mich Auf, 1982)
Amon Düül II – 'Freak Out Requiem I' (bonus track from 2000 reissue of Phalus Dei, 1969)
Anal Magic & Rev. Dwight Frizzell – 'Journey Of Turtles' (from Beyond The Black Crack, 1976)
AMM – 'Musette' (from Before Driving To The Chapel We Took Coffee With Rick And Jennifer Reed, 1996)
Amon Duul – 'Snow Your Thurst and Sun Your Open Mouth' (from Paradieswärts Düül, 1970)