"A naked woman indignantly shielding her sheep's eyes from the sight of a proudly tumescent gentleman."
I deliberated for some time as to whether I should approach this in the order of The List itself or in an alphabetical fashion. In the end I plumped for the latter on the basis that it [a] fitted better with my OCD tendencies and [b] gave me (and those readers less accustomed to some the quirkier delights on The List) a less challenging entry point – Agitation Free being a little easier to get your head around than (Ritual) ALL-7-70.
[I should state at this point that this blog will feature a lot of links to and mixes of many of the songs produced by List artists and I obviously don't own the rights to any of them (or the pictures). Should anyone who does own them wish me to remove anything, then please contact me via the menu at the top the page.]
Agitation Free
As well as being one of the more accessible acts on The List (relatively speaking anyway – nobody completely straightforward and easy on the ears was ever going to make it on there by definition), Agitation Free also provide me with a welcome opportunity to ease myself into the blog gently. This is by dint of the fact that I know their material well already and there's plenty of information available about them. Founder member Michael "Fame" Günther's website in particular provides a wealth of detailed first-hand evidence. (He seems to have last updated the site in around 1999; its layout definitely places it in the GeoCities era.)
The band's origins lay in two Berlin-based teenage Beatles/R&B covers bands (one of which was called The Sentries) who merged in autumn 1967 to form Agitation, the name being chosen randomly from a dictionary. The original line-up consisted of Günther on bass, Christophe Franke (later of Tangerine Dream) on drums and guitarists Lutz 'Lüül' Ulbrich and Lutz 'Ludwig' Kramer.
For a brief period, vocalist Manfred Brück (aka John L) appeared occasionally on vocals, although according to Günther his performances were more notable for his on-stage antics ('he recited lyrics and danced, usually naked (but with painted penis), on the stage and in the audience') rather than his singing ('he couldn't sing a note'). Known to the local press as 'the Hippy King of Berlin', John L would go on to contribute to Ash Ra Tempel's 1972 album Schwingungen.
Although the band generally performed cover versions to begin with, lengthy improvisational passages increasingly became a feature of their work, and performances often included Pink Floyd-style psychedelic visuals. They frequently played on the same bill as Cluster and Tangerine Dream. A name change was required when the band discovered that there was another Berlin outfit called Agitation. The solution presented itself when they played a free gig at the Quasimodo Club.
Kramer left the band in 1970. He had opposed any variation from a purely improvisational style, and had also become more focused on drugs and politics than music. Axel Genrich (later of Guru Guru) stepped in temporarily before being replaced by Jörg Schwenke. The following year, Franke joined Tangerine Dream. His place was taken by Burghard Rausch, who was introduced to the band by Klaus Schulze. Michael Hoenig (who would also go on to play in Tangerine Dream) joined on keyboards.
This was the line-up that would record Agitation Free's debut LP Malesch, released in 1972. The album's sound was heavily influenced by the band's tour of Egypt, Lebanon, Cyprus and Greece that had been sponsored by the Goethe Institute. A film clip of the group in Saqqara (an ancient burial ground) sees them musically and visually indebted to Pink Floyd.
The Arabic word 'malesh' translates loosely as 'never mind' or 'don't sweat it'. It's easy to see why the band chose it, as there's a calm, languid atmosphere to much of the album. It melds Eastern themes with krautrock improvisation, for example on the gently undulating 'Khan El Khalili', the oppressively clattering 'Pulse' and the sinister, abstract 'Sahara City'. The eastern influence can also be seen in the LP's artwork:
Jörg Schwenke's heroin habit led to his sacking in 1973, although not before he contributed to the band's blistering set for French TV show Rock En Stock. He was replaced by Stefan Diez, who played on their second album, imaginatively entitled 2nd.
Whilst there's still a certain amount of woozy dreaminess to 2nd, it's much more taut and focused in comparison to the band's debut. Whereas the Malesch tracks ran into each other, linked by abstract soundscapes, the songs here are more clearly defined. Little of the Eastern mysticism remains; 2nd is much more in line with what most would expect from an early 70s krautrock album. Opener 'First Communication' is a deliciously hazy blues jam; 'Laila, Part II' an assertive piece of jazz-infused soloing; 'Haunted Island' a creepy, atmospheric bit of prog that erupts into some exemplary solo guitar.
After the album's recording, Diez was replaced by Gustl Lütjens, but the group found themselves drifting apart and they disbanded at the end of 1974. Günther and Lütjens made a last-ditch approach to save the band by recording a set of jazz-rock material that was eventually released in 1999 as The Other Sides Of Agitation Free. It's not great: an insipid take on Weather Report.
Agitation Free reunited in 1998. River Of Return, released in 1999, finds them distinctly mellowed by age, the album sounding like a rather soporific amalgamation of Dire Straits, Billy Joel and Santana. Much more satisfying are live albums Last, Fragments and At The Cliffs Of River Rhine.
Pekka Airaksinen
Airaksinen, along with performance artist Mattijuhani Koponen, founded the notorious Finnish band The Sperm in the late 60s. Their appearances were intended to challenge sexual taboos; Koponen was at one point imprisoned for six months for having sex on stage with a woman lying on a grand piano. I shall return to The Sperm later (not a phrase I ever expected to find myself typing) as they are also on The List.
Airaksinen released his debut solo album, One Point Music, in 1972. It's by no means an easy listen, but a rewarding one, full of grainy textures and abrasive rhythms.  
After abandoning music for Buddhism for several years, he released Buddhas Of Golden Light in 1984, a mix of proto-Aphex Twin and 'Rockit'-era Herbie Hancock overlayed with skronky sax.
After another lengthy gap, he founded his own label, Dharmakustannus, in 1994. Milk Sea, the first CD released on the label, saw him turn to ambient synths, undulating sequencers and delicate instrumentation with an Eastern tinge.
Having taken 22 years to produce three albums, Airaksinen went on to be notably prolific over the next couple of decades, producing work in a wide variety of styles. Inner Galaxies (1996) added thoughtful, understated drum machine patterns to the ambient background; the closing pair of 'JSSX' and 'JSFF' saw him experiment with a type of synth-chamber music.
Mangala (1997) took a more disjointed and abstract approach, particularly in the lengthy pieces 'Visvabhu' and 'Mangala – Good Sign'. 1998's Pink Bodies was much more percussion-focused and flirted with techno in places, the fifteen-minute title track nudging into Orbital/Orb territory.
Karmapa, also released in 1998, is a particular highlight, a richly diverse and absorbing album. It opens with the 13-minute 'There Are Rainbow Clouds On Top Of Our Heads', whose skittering rhythms dip into Aphex Twin irregularity. 'He Is Dancing Down' matches frantic classical piano with coarse electronic scrapes; 'Spreading Up And Down' sees a tinkling, warped synth fight to be heard over ominous staccato strings;  'Black Crown' pits a rubbery funk bass line against grandiose piano chords, a gently shuffling drum machine, flashes of warped electronics and a nagging, fuzzy glitch pattern.
Highlights from the latter part of his career include Other Power (2012), an energetic jazz-techno-glitch-improv concoction and the bleak, dystopian murk of 2015's Afrodipankara.
His 2014 collaboration with Finnish free jazz outfit Taco Bells, recorded in Helsinki, was released as Taco Bells With Pekka Airaksinen the following year. It's comprised of two lengthy pieces of twitchy, frenetic improvisation that are impressive if a little exhausting.
Buddhism always remained central to Airaksinen's creative processes. In a 2018 interview with The Wire's Matt Wuethrich, he explained: 'I came up with a system where I converted these names [of Buddhas] into mathematical information and then into musical equivalents that I used for compositions.' Airaksinen died on 6 May 2019.
Airway
This is where it starts to get complicated. Many List artists were interlinked in often complex ways with others on the list (and beyond) and/or were part of a wider collective or movement, something that I'm already beginning to see is going to provide me with some substantial challenges…
In 1973, Rick Potts, Joe Potts, and Chip Chapman began to record material under the name Patients and then Le Forte Four (the latter of which is also on The List). Inspired by Zappa, Beefheart and improv performers such as Derek Bailey and Evan Parker, they experimented with tape manipulation, improvised playing and sampling from records and TV cartoons. They used the name Los Angeles Free Music Society for the first time in 1974 when applying to play at the Høvikkoden Electronic Music Festival in Norway, believing that it was more likely to be taken seriously than Le Forte Four. (It wasn't: the rejection letter said, 'Free ears and minds are one thing, but what about aesthetics?')
LAFMS based themselves in the decrepit Raymond building in Pasadena. Poo Bah Records was on the ground floor, where Tom Recchion (of Doo-Dooettes, also on The List) worked and an assortment of musicians, artists and instrument-builders (including members of Smegma, another List band) regularly hung out. The first LAFMS release was Bikini Tennis Shoes, a Le Forte Four album that I'll return to later. LAFMS #002 – I.D. Art #2 – was the result of Joe Potts inviting local artists to participate in a various artists LP, the going rate being two dollars for every 15 minutes. It's the very definition of eclectic.
Thereafter, LAFMS became an umbrella for a loose, broad collective of experimental artists.
'"The term Free Music Society started as a joke", Joe Potts confirms. But thanks to Recchion's intervention it became "a means to unify several independent circles of mutual friends who were all experimenting with sound from a similar (non-)aesthetic viewpoint."

Le Forte Four's spastic mix of electronics, free reeds, and cultural detritus was augmented by the scattered percussion and demented chanting of Recchion and Harold Schroeder's Doo-Dooettes, the drone-based freak-outs of Eric Stewart's Smegma ("the band without musicians"), and an almost uncountable number of other more-or-less temporary groupings, assembled on the fly from whoever happened to be around.

New sounds and new means of making sounds were found by attaching hinges to the necks of guitars, putting bassoon reeds in the mouthpiece of trumpets, sticking nails and springs into hunks of wood, screwing and scrunching up found flexidiscs, and dropping things randomly to the floor.'1
One of these 'groupings' was Airway, a noise-rock offshoot fronted by Joe Potts. In 1977, a 7″ was released, credited to Potts, that was simply called 'Airway'. According to 'Crisis of Taste', who posted it on YouTube, the recording served as Potts' graduate art school thesis.
In August 1978, Potts led an Airway performance at the Lace Gallery in LA, which was released as Live At Lace. It's a pummelling, unforgiving performance; not one for the faint-hearted. It's worth persevering with though: around the 13 minute mark the relentless drone fractures and warps into a rasping, quizzical feedback; and if you can immerse yourself in it fully (it took me a couple of goes, I must confess) it provides a kind of out of body experience.
A 10 CD box set, LAFMS: The Lowest Form Of Music (released in 1996) included the Lace recording as well as 'Perpendicular Thrust' (four minutes of thumping psych rock), an unnamed and undated live recording and a bizarre take on Springsteen's 'Racing In The Street'. All three featured vocals from Vetza McGill (who also performed in Smegma).
In 2010, an Airway performance from The Gramercy Theatre, New York on 22 October 2009 was released as part of a split LP with Japanese noise band Hijokaidan.
Aksak Maboul (Aqsak Maboul)
Aksak Maboul were a Belgian band founded in 1977 by Marc Hollander and Vincent Kenis. Their debut album, released in the same year, was called Onze Danses Pour Combattre la Migraine ('Eleven Dances for Fighting Migraines') and also featured Chris Joris (who would go on to found Afro-European Jazz outfit The Chris Joris Experience) on keyboards and sax.
'(Mit 1) Saure Gurke (Aus 1 Urwald Gelockt)' sounds like a warped cabaret version of Tangerine Dream:
'Milano per Caso' is a piece of languid jazz that you might expect to hear in a Parisian café; 'Mastoul Alakefak' pulses hypnotically for five minutes before gradually transforming into minimalist lo-fi krautrock skronk; 'Three Epileptic Folk Dances' is more than aptly described by its title:
Reviewing a 2003 reissue of the album, Mojo described it as 'a stew of imaginary world music, rock, electronics and proto-techno'. The word 'stew' is apposite – Onze Danses wanders across a kaleidoscope of styles – but it still retains a sense of coherence. Highly recommended.
Their second album, Un Peu de l'Âme des Bandits ('A Little of the Bandit Spirit'), released in January 1980, had a cover that featured (and I find it hard to believe that I'm typing this) a naked woman indignantly shielding her sheep's eyes from the sight of a proudly tumescent gentleman. The band were called, according to the label, 'Aqsak Maboul', although subsequent reissues reverted to the original spelling. Kenis was not a part of the band by this point, although he arranged a couple of tracks; Henry Cow's Fred Frith and Chris Cutler contributed to many of the songs, their involvement helping to bring the album to wider attention.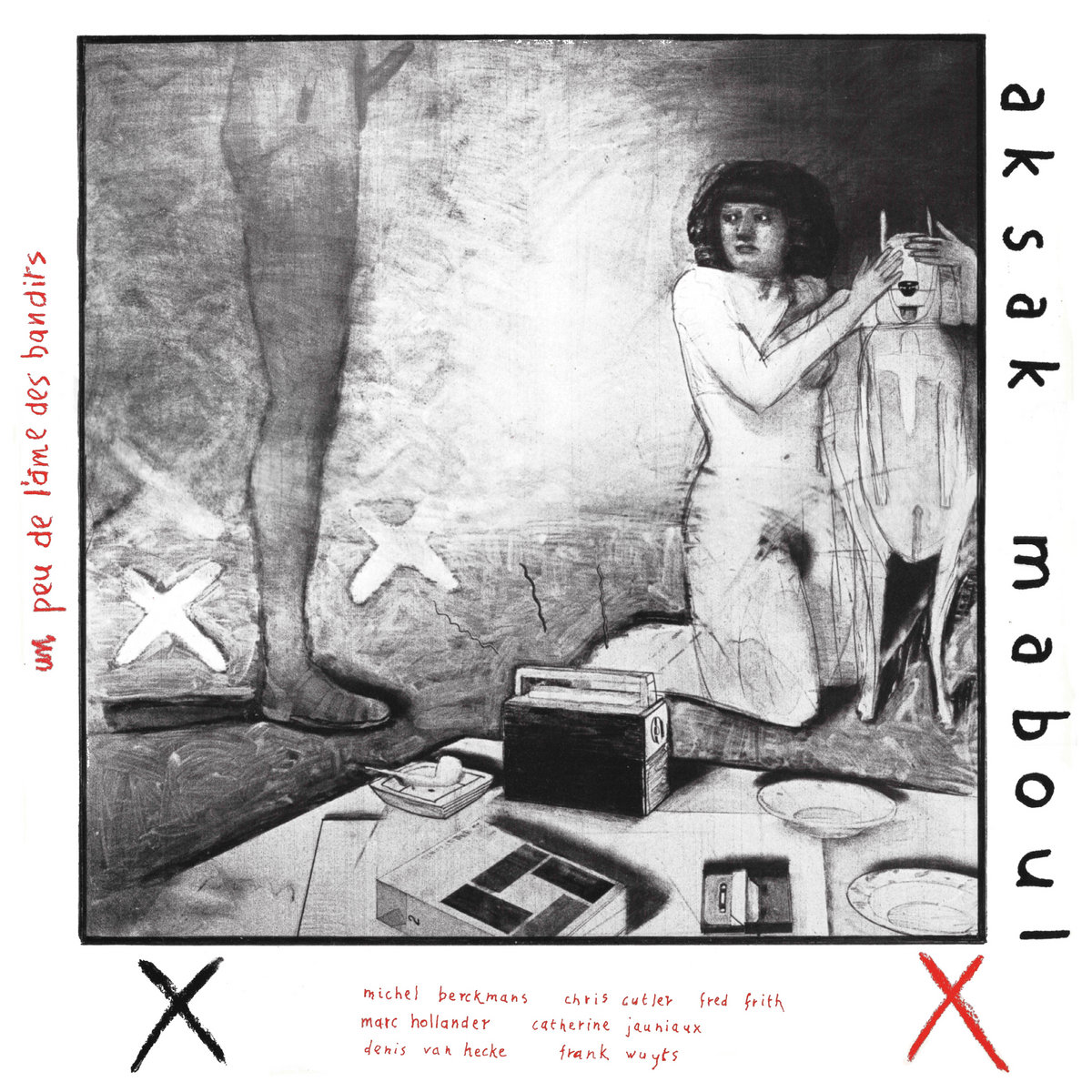 Bandits is a much more aggressive and abrasive affair than Onze Danses. Opener 'A Modern Lesson' is an urgent piece of off-kilter Beefheart-ism that features wildly gibbering vocals from Catherine Jauniaux (the song also contains a recording of her playing pinball).
Another highlight is 'Inoculating Rabies', a two minute blast of angry bassoon punk that really doesn't sound like anything you've ever heard before. The album's crowning glory, however, is 'Cinema' a 23 minute epic that encompasses dark drones, fidgety percussion and electronica, psych-prog workouts, atonal jazz noodlings and NWW-style voice samples. Simply marvellous.
Marc Hollander went on to found Crammed Discs in 1980, a label renowned for promoting artists from across the globe. He also reunited with Vincent Kenis to join The Honeymoon Killers. They recorded an LP entitled Ex​-​Futur Album that was eventually released in 2014. Although touted by some as the great lost third Aksak Maboul album, it's actually a fairly ordinary piece of polite electro-pop. However, this shouldn't detract from the two hugely inventive and impressive albums that they produced in 1977-80.
Albrecht/d
Born Dietrich Albrecht in 1944 in Nordhausen (soon to become part of East Germany). His mother left the GDR in to live in Stuttgart in 1955 and he went to live with her there three years later. Influenced by the Fluxus community, he began to produce mail art in the mid-60s, cutting up his abstract works and posting them to friends. In 1968 he set up a label called Reflection Press and an arts publication, flug / flux. Together with conceptual artist Günter Sarée and Wolf Vostell (reputedly the first ever artist to integrate a television set into a work of art), he founded the 'Independent Olympic Committee', which aimed provide an alternative arts program for the opening of the 1972 Munich Olympics. This apparently included (if the translation is to be believed) an Olympic anthem constructed 'out of laughter'.
Albrecht/d's first appearance on record was on Die Abartigen, a collaborative album released on Reflection Press in 1972; the other artists listed include Vostell, Sarée, Allan Kaprow (who first used the term 'happening' to describe performance art), prescient South Korean artist Nam June Paik and Jean Toche. It's a fascinating thing; fragmentary and ghostly, akin to flicking through obscure local radio stations whilst on a long. lonely journey on a dark, deserted highway.
Albrecht developed a musical approach called 'endless music', which was heavily influenced by Balinese and Buddhist culture and involved him constructing his own instruments. He explained the concept and demonstrated one of the instruments in a 1988 interview. A solo album, Endless Music, followed in 1974.
His collaboration with avant-garde artist Joseph Beuys, recorded at London's ICA in November 1974 as part of the Art into Society – Society into Art exhibition, was released in 1976. It's a sparse and rather ponderous performance to begin with, featuring tentative drumming and a squeaky recorder, although it picks up a little in the second half with the introduction of a cast of disparate, floating voices.
At the ICA show, Albrecht met Throbbing Gristle, at that time still working under the name COUM. In the summer of 1976, he stayed with them in London and sat in on drums on sessions at their studio at 10, Martello Street. On his return to Stuttgart, Albrecht released the material on Reflection Press via cassette: Music From The Death Factory and Live at 10, Martello St, Hackney, London. The recordings (the first to appear under the name Throbbing Gristle) are bleak, muffled and fragmentary. In places, Martello St. sounds like little more than a tape deck running in the corner of the room whilst everyone plugs in and tunes up; it flirts with a dissonant, lumbering psych-jam around three-quarters of the way through, but rather peters out towards the end. Death Factory is more satisfying, featuring a series of jagged, gritty passages reminiscent of the farther reaches of Gong, Hawkwind and early Tangerine Dream.
Abstract Energy, released in 1985, compiled recordings from across Albrecht's career. Thereafter he went quiet on the musical front for several years, until a handful of CD-R releases appeared in 2003 on the Break The Line! label. Klänx 29=27, a selection of brief, brittle, mainly percussive pieces, can be downloaded here.
He released a spoken word LP, Fast Ein Telefonat (an 'abstract telephone assemblage') in 2012, limited to only two (!) copies. This was produced in collaboration with Kommissar Hjuler (real name Detlev Hjuler), a German artist who mostly records under the name Kommissar Hjuler Und Frau alongside his wife Mama Bär. One copy of the album apparently sold for 300 Euros in 2014. I have not been able to track down a recording anywhere online.
Albrecht was found dead in his apartment on February 12, 2013. Three years later, material he recorded in 1990-91 was released as an album entitled Far East And Out on Dead Mind Records. Consisting of four untitled tracks, it's basically half an hour of uninspiring tinkling and clanging; not the most edifying postscript to an intriguing career.
NWWL Mix #01
I aim to provide a sampler mix of the five artists featured at the end of each post. To repeat: I do not own the rights to any of this music, and will happily remove anything if asked by anyone who does so.
Enjoy!
Notes
1'The Rest Was Noise – Forty years of the Los Angeles Free Music Society', Robert Barry, Frieze, 20 January 2017